Political lobbying
One of the first actions taken by GEAI during 2011 was to make presentations to communities and Local Authorities on the impacts of fracking. The presentations were made by Dr Aedín McLoughlin, based on research carried out by GEAI and international experts, notably Jessica Ernst, who launched GEAI in Dublin in 2011. This was made possible by the fact that GEAI from its start was very active politically, including in its membership members of all political parties, united against this industry.
GEAI political advocacy work included meetings with politicians of all parties; having the subject brought up at party meetings; communicating with individual politicians via email; and working with individual Local Authority members to initially organise permission to make a presentation to the members and then drafting the wording of Notices of Motion to ban fracking, that could be included in the Council meeting agenda.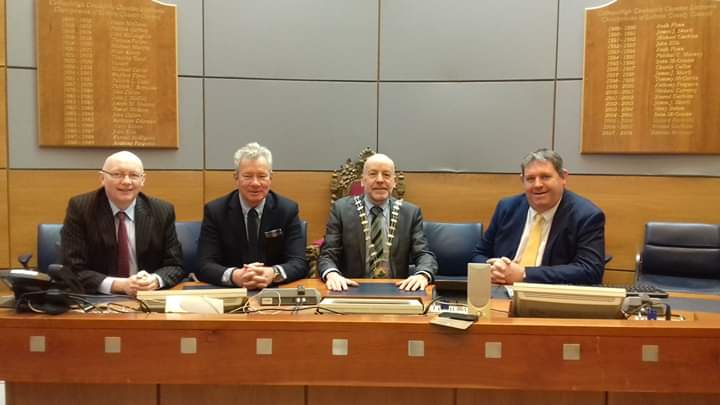 Based on evidence of the damage to health and environment occurring where fracking has taken place (mainly in the US and Canada), democratically elected representatives of Local Councils in Counties Clare, Sligo, Roscommon, Leitrim, Fermanagh and Donegal moved to ban fracking within their counties in 2011 and 2012. They also instructed their County Managements to begin the process of altering County Development Plans to include a ban on fracking. Some requested the Minister to ban fracking nationally. Members of anti-fracking organisations, including GEAI, attended those meetings and reported on them.
The Local Authority in Fermanagh and the Northern Ireland Assembly in Stormont, Belfast in 2012 passed motions called for a moratorium on fracking.
GEAI stated "While technically, Local Authorities do not have the power to prevent fracking, it would be foolhardy and undemocratic of Government to dismiss this solid opposition; particularly as both Europe and Ireland profess "local Consultation" as being very important in such circumstances."
Leitrim County Council: 6th February 2012
Notice of Motion unanimously agreed:
"That Leitrim County Council calls on Ministers and Government to ensure that the practice of Hydraulic fracturing be excluded as a method of extracting Gas/Oil on the Island of Ireland as in the case of some European countries."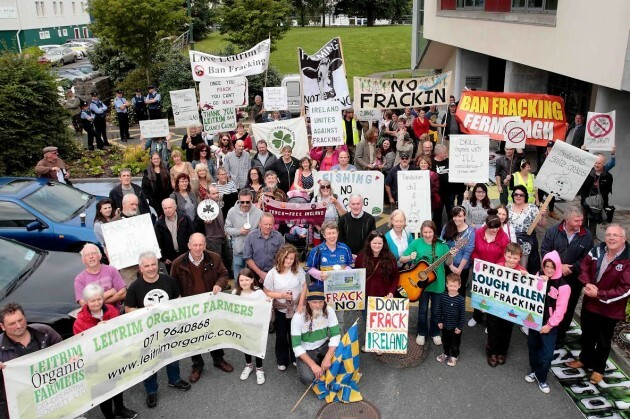 Outside Leitrim County Council offices after Notice of Motion banning fracking is agreed. (February 2012)
Clare County Council: 9th January 2012
Notice of Motion proposed and agreed:
"Based on the vast available evidence and the well documented international concerns on the detrimental effects of fracking on:
– the environment
– its potential impacts on local communities
– the damage to all farming and tourism industries which are the backbone of the economy in Co. Clare with particular reference to the strong probability in the West Clare Area, of contamination to the ground water supply, due to the nature of the local geology. I will propose that the Council call on the Minister for Communications, Energy and Natural Resources to ban fracking."
Sligo County Council: 16th January 2012
Notice of Motion agreed:
"That Sligo County Council calls on the government to ban the practice of hydraulic fracturing/fracking and that this Council commences the process of amending the Sligo County Development Plan so as to ban the practice of hydraulic fracturing/fracking in County Sligo."
Second Notice of Motion agreed:
"I will ask Sligo Co. Council to impose a ban on Hydraulic Fracturing (also referred to as Fracking) in County Sligo because of public concerns of its effects on tourism, farming and local communities."
Donegal County Council: 16th January 2012
Agreed that the following policy be inserted into the County Development Plan:
"It is a policy of Donegal County Council that the process of Hydraulic Fracturing (or fracking) will not be permitted within the County of Donegal. Therefore, this Council will not allow the intrusive shale gas extraction practices."
Roscommon County Council: 28th November 2011
Notice of Motion agreed:
"That Roscommon County Council contact the Department and the Minister to request a complete ban on fracking in Ireland."
Fermanagh District Council: January 2012
Notice of Motion passed:
"That this council opposes the use of hydraulic fracturing for gas exploration in the Lough Allen Basin, and in the light of the backing by the Northern Ireland Assembly for the motion put forward by Steven Agnew MLA on hydraulic fracturing, that we call for the Minister for the Department of Enterprise, Trade, and Investment, Arlene Foster to place a moratorium on the licence granted to Tamboran Resources."
Northern Ireland Assembly: 6th December 2011
Notice of Motion passed:
"That this Assembly believes that a moratorium should be placed on the onshore and offshore exploration, development and production of shale gas by withdrawing licences for hydraulic fracturing (fracking), at least until the publication of a detailed environmental impact assessment into the practice; notes that hydraulic fracturing can put local water sources at risk of contamination; further notes that, amongst a variety of adverse environmental impacts, the process of fracking can cause serious well blowouts, which put both workers and local communities at risk; considers that the production of hard-to-reach fossil fuels is not compatible with efforts to achieve carbon reduction targets; and urges the Minister of Enterprise, Trade and Investment to give greater support to the generation of energy from renewable sources instead."